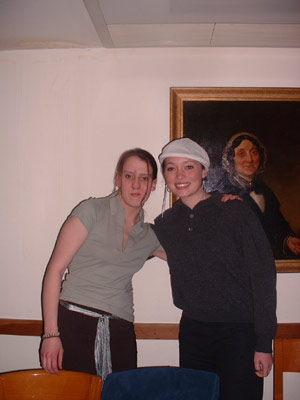 The tribe competition 2003 for channel 5 Milkshake – 30/3/03
I thought as I am a huge tribe fan that I would enter the competition that channel 5 where running I had to answer questions about the series of the tribe.
The day came when I got the phone call from Eddie at channel five who presents milkshake I was so happy that day I rang all of my friends and they where very jealous.
30th March
The day came we were able to bring a chaperone with us to the lunch so I bought my closed family member along with me my sister Jemma.
I live in a little town called Sudbury and we had to get the train which took about an hour and a half to London.
The time by then was to get of the train and the nerves of meeting the tribe cast started to kick in, I still couldn't believe that I was just about to meet them at Pizza Express in London.
It was then about 1:10 Pm in the after noon Toni and Beth and Meryl arrived in a taxi. There was another girl with us waiting out side the pizza express restaurant who also won the competition and there was another girl coming along too
Meryl and Beth and Toni introduced themselves to us and of course I knew who they were they where very pleasant.
We all went in to the restaurant and waited for the boys of the cast and one competition winner to come,
We all had a little chat in the waiting area and then came Danny James and Tom Hern and Michael Wesley-smith.
Then the waiter sat us to our seats and Tom was so kind and pulled up a seat for me "he said come and sit next to me and Meryl" he was such a gentle man.
I gave them all my present which was some hand made bracelets and necklace for the boys. Michael grabbed one and put it around his neck it was very funny the way he said is it too tight me Meryl and Tom where laughing and we all said yes.
By then the Channel 5 Crew Eddie and Naomi came and then it was time to order some lunch.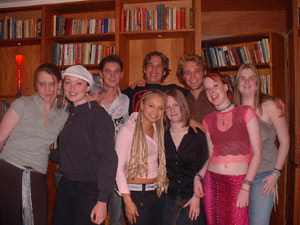 My sister was having fun too she was talking to the cloud9 team who came along with the cast.
I ordered cheese salad as did tom as well I'm not sure what the other ordered at the time.
By this time me and Beth where having a natter about her role and how her character has changed so much during the series and I said that I loved her in series 1 and 3 and she was very happy.
I went over to chat to Antonia Prebble one of the cast members I am a fan of dearly we chatted about music and her role in the tribe I ask her if she could make me an answer machine message on my mobile as she did it was fantastic also I was chatting to Eddie at channel 5 who was talking about Tom's Role in revelations we said how good he was in it too.
By the time I was chatting to meryl about her hair and my sister is currently a hair dresser and we asked meryl how long it took and it was about 6 HOURS as her mother done her hair and Toni was wondering about the hair color she would use as she wanted to die her hair and Jemma gave the name if the shop to go too.
By then it wasn't 1: pm it came close too 5 and the others wanted to go back to there Hotel and watch a movie.
So I took some photos of me and Danny and Michael and of course Danny and Toni and I said they'd make a Lovely couple and group shots and there was a couple of me and Beth also I managed to get the tribe DVD series one box set signed by the cast members and also a menu signed from pizza express
It was a memorable occasion I shall never ever forget that day thank you cloud9 team and channel 5 milkshake.
Jessica Kirbyshire Sudbury Suffolk 20