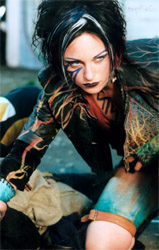 Laura Wilson is looking
mean!
Did you know?…
1. There were pumpkins at Alice and Ellie's farm.
2. Halloween has never been celebrated in the Tribe.
3. Zombies come from Haiti. Normal people become zombies by way of a magic spell or potion.
4. The most haunted house in England is Borley Rectory, a house dating back to 1863. It has been gutted by fire twice and is haunted by various ghosts, phantoms and poltergeists.
5. The first appearance of Count Dracula was in the novel of "Bram Stokers' Dracula" in 1897.
6. Halloween originated in ancient Celtic times when the Druidic priests celebrated Samhain on October 31st. Samhain was a celebratilon of the dead.
7. The oldest forms of vampires were Aztecs, Mayans, Romans and Indians.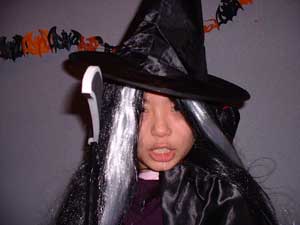 Michelle Ang is looking meaner!
8. The largest showing of vampire outbreaks happened in Europe between the 1100's-1700's.
9. The word 'witch'comes from the Anglo-Saxon term 'wicce'. This term comes from the Indo-European word meaning 'to bend'or to 'change'or 'make magic'.
10. The Northern Argentinian term 'Lobisøn' describes the seventh son in a family who (according to ancient folklore) turns in to a manwolf, whist the 7th daughter of the family becomes a witch.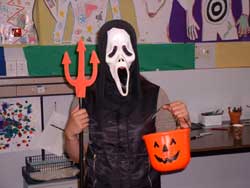 Jaimee Kaire Gataulu goes
undercover Halloween!
OOhh spoooky stuff! Watch out for some more Tribe Trivia coming soon …
Remember: If you have any questions about the show and how it's made please email ustribetrivia@entercloud9.com