Did you know?
We're looking into some of the Trivia on Tribe 4. Stuff you never knew…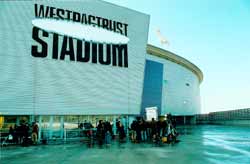 1. During the filming of Tribe series 4 the WespacTrust Stadium is being used as a location to film. The stadium can seat 34.500 people and is 26 metres high, that's about 80 feet which is the equivalent of a 5 storey building. If a Brachiosaurus (dinosaur) was in the middle of the stadium its head would just peek over the top. So what scenes in Tribe series 4 could the stadium be being used for???
2. A wheelchair is used and prominently used by someone in Tribe series 4. This type of transport is not all that we'll be seeing. Some intriguing and uniquely designed vehicles are also being used.
3. The Tribe is filmed in many locations and around 15 are used for the The Tribe series 4 including rooftops, private houses with gorgeous gardens, old hospitals, the stadium, a farm, a powerstation and of course the Cloud 9 studios and the pool!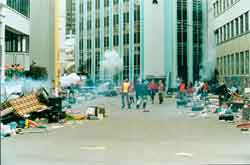 4. Depending on the day, between 20-100 crew, cast and extras are used on one day. And they all have to be fed! Cloud 9 has a cafe (Take 9) that caters for breakfast and lunch.
5. A huge amount of equipment is used in a day on location. There are many trucks used for carting gear around and providing electricity for locations that don't have any. There are Grip trucks, lighting trucks, camera trucks, unit trucks, makeup buses, wardrobe buses, and a classroom camper. Plus the vehicle props!
6. Between 8-12 minutes of footage is about average for a days shooting on The Tribe. The scenes are scheduled for the day and the duration of each scene is accounted for and fitted into the schedule. 8-12 minutes a day is around 23 hours of footage!! This is enough footage to make 14 feature length movies!!
7. On special days additional crew are needed like Fight co-ordinators, Security, Safety officers and Animal wranglers. There are so many people you wouldn't think of that are needed to make a series of The Tribe.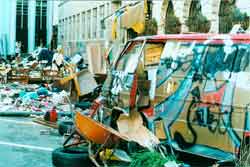 8. For some of the large city street scenes filmed in central Wellington, the Art Department spend hours dressing the set. Take a look at the pics and you can see the huge task of the Art Department to make a clean street look like like a tribal city street. All those props have to be positioned and accounted for for continuity purposes. They need to be in the same place so that it never looks different from one angle to another – theres every type of junk you could imagine.
9. The costumes and makeup have been specially designed for Tribe 4. They are designed to reflect the characters and the storylines they will be leading. Some are more wild and some are more discreet. The costumes are all made and designed at Cloud 9 with the uniqueness that is The Tribe.