CHRISTMAS AND NEW YEAR TRIVIA part two
DID YOU KNOW?
Mince pies were originally made form mince … minced meat that is! Poultry, pheasants and rabbits made up the mince pies in the Middle Ages.
Sugar, candied fruits and apples were added through time and eventually replaced the meat.
If the Chosen decorated a Christmas tree, they would use Zoot decorations.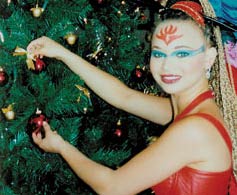 Meryl Cassie (Ebony) decorates our tree.
Christmas crackers were invented in 1847 by Tom Smith, a wedding cake baker who lived in London, England. Smith's company had sold more than 13 million crackers by 1900.
The first retail Christmas tree lot was opened in New York, USA by Mark Carr in 1851.
The most likely date that Jesus was actually born on is said to be in March 6BC.
The first Christmas tree to be brought to France was introduced by Princess Héléne de Mecklembourg in 1521.
Silent Night is sung in over 180 languages and is the most popular Christmas carol of all time.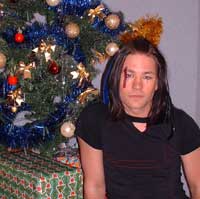 Caleb Ross (Lex) looks for some mistletoe.
Lex would look in all the presents before everybody else woke up on Christmas morning to see what he could take for himself.
More than 30 million copies of Bing Crosby's White Christmas have been sold!
The first electric tree lights were invented in the USA in 1882 by Edward Johnson.
In the 12th Century, trees were hung upside down as a symbol of Christianity.
KISSY KISSY
Do you feel like kissing somebody under the mistletoe? Well, beat this record. The world's longest kiss was recorded in 1999 in Israel. Dror Orpaz and Carmit Tsubara pashed for 30.45 hours!
ARE YOU HUNGRY?
The biggest turkey in the world was raised in the UK and was 85 pounds. It was the size of a medium sized dog. The average size of a normal turkey is between 14-45 pounds. If each person ate half a pound of turkey, the dog-sized one could have fed around 170 people! If that turkey was worth it's weight in gold, it would be worth $408000USD! Think how much cranberry sauce you would need!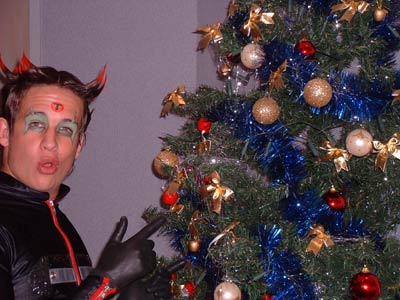 NEW YEARS
New Years is said to have been first celebrated in Babylon around 4000 years ago.
In Austria, New Years Day begins with a celebration of midnight mass on the 31st December.
Tom Hern (Ram) wants to party!
Ram is a real showman and would love to hold a big New Years party. Perhaps we will see a New Years celebration in the Tribe?
The symbol of a baby to signify the New Year begun in Greece in 600BC.
In America on New Years Day, American football is shown all day long on television.
Auld Lang Syne was adapted from the poem by Scotland's most famous poet, Rabbie Burns.
FIRST FOOTER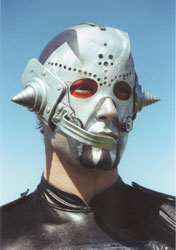 New Years is called Hogmany in Scotland and it is tradition to watch for the first footer. This is a tall, dark stranger who arrives at the doorstep, offering a lump of coal for the fire and some cake or a coin.
Many families nominate a member of the family to be the first footer so that they will be in good luck for the New Year.
Who would want this guy to be the first footer?!
This tradition is thought to have originated in Scotland when people were scared of the blond haired Vikings who wreaked havoc throughout the country and thought that dark haired people were lucky.
However you choose to celebrate Christmas and the New Year we hope that it will be a happy one for you. A very Tribal Christmas to you all!