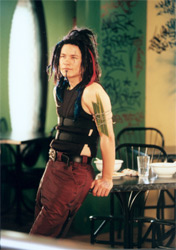 This is the 4th major Tribe Tour to Europe and the 2nd to German. The last tour was with Beth Allen, Caleb Ross and Meryl Cassie. This time it includes Caleb Ross, Meryl Cassie, Michael Wesley-Smith and Victoria Spence.
On the current tour, the flight from New Zealand to Frankfurt is 23 hours and 15 minutes. In that time you could watch 46 Tribe episodes!!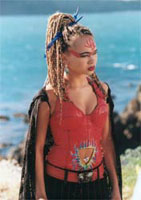 The cast are flying 18,601 kilometres on their trip – if you were to walk this (walking at 5kph) it would take you 3720 hours or 155 days!!
There is a special "Tribe Coach" on the tour that the cast are using to get around Germany tha has leather couches, a TV, video player, CD, fridge and loads of comforts!
They are travelling to 8 cities throughout Germany including Frankfurt, Stuttgart, Göppingen, Munich, Bad Tölz, Bayreuth, Berlin and Erfurt.

They are using different kinds of transport including aeroplanes, coaches, evene a sleigh-ride through snowy mountains!
The cast will be having lunch in London with lucky winners of the Tribe and Atlantis High web contests.
The cast are giving interviews in every form of media – television, radio, magazines, newspapers, digital web media and by telephone!!
Meryl, Michael, Caleb and Victoria will be making a live appearance at Starcity in Birmingham where autographs etc will be done.

The cast have had to learn a few lines of German including –
"Ein Glass Wasser bitte" which means – A glass of water please.
"Ich verstehe nur Wurstsalat!" – I don't understand a thing you're saying!
"Was ist los?" – What's up?
To find out more about the Tribe Tour 2002 visit our Tribe Tour Page