The Eco Camp – built on a farm in rural Wellington
When filming a series, one of the first things to do during Pre-production is to hire a Location Manager to find suitable locations for filming. If lush forest scenes are needed then the Location Manager will probably visit local forest parks and reserves to find a suitable backdrop. The location must be easy to get to and there must be plenty of room to park all the trucks and equipment.
Sometimes a deserted city street is required for a scene. Often these scenes will be filmed on the weekend because an inner city street in the capital city Wellington needs to be blocked off and this would cause all sorts of chaos during the busy working week.
Once a location has been found then a contract is negotiated with either the council or the owner of the land. A fee is paid and then filming can take place for a certain amount of days.
Kaitoke Regional Park
The Tribe is shot at locations in the Wellington region only except for the cliffhanger at the end of series 4 when the Techno's jumped out of the plane. This scene was shot 1.5 hours north of Wellington at the New Zealand Air Force Base.
Over the time of filming, Series I-V have been shot at many different locations, for example the roof top of the Duxton Hotel, Mall carparks, ex-Army Base, ex-Naval Base, railyards, railway stations, hospitals, the seaside and hills at Breaker Bay, Hutt Riverside, Regional Parks, various Lower Hutt and Wellington streets, Gas plants, Metal Yards, and a Farm (where the tree house of Pride and Eagle is located). Some scenes have even been shot in old war tunnels and gun emplacements from WWII which are high in the hills overlooking Wellington harbour.
There is a special set created in Whitemans Valley (a rural area of the Hutt Valley), and is a complete village consisting mainly of building exteriors.
Exterior features include the farmhouse and farm garden, bar/casino, derelict streets and street corners, shops, hall, designer graffiti (especially designed and created by graffiti artists.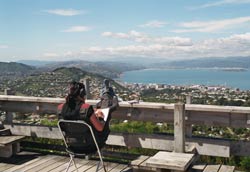 The view from Wrights Hill Fortress in Wellington
When filming at outside locations, the ultimate dictator is the weather. The Cloud 9 Production team receive the weather reports in advance so as to plan filming around the unpredictable nature of the weather. Often at the last minute, filming for location days gets swapped around with a studio day due to bad weather. The Directors, Cast, Camera Crew, Wardrobe, and Make-up, are all on standby with wet weather alternate work plans for the day.
If you have any trivia type questions about the show and how it's made please email ustribetrivia@entercloud9.com and we'll put together another Tribe Trivia soon and try and answer some of your questions!