NAME: Alice
STYLE OF FASHION: Alice was first seen in The Tribe briefly in Series 1. She was out at the farm and she was farming pigs. Back then she wasn't caught up in fashion at all. You can't be fashionable when your trudging around with pigs all day.
Since those days and since Alice moved into the Mall she's become a stunning woman. She wears fitted bodices and long skirts which are really flattering. She likes to look good and likes to dress up for special occasions like dinner with Lex.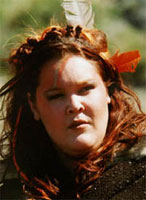 STYLE OF HAIR: Alice has long wavy brownish hair with soft red tones. Often worn with some of it piled on top of her head in little twists.
STYLE OF ATTITUDE: Alice has strong beliefs and a strong character. Don't mess with Alice! She's a big girl and can certainly stand up for herself. She's great at telling people what she thinks of them and this even extends to her fists which she is quite capable of knocking someone out with.
STYLE WITH OTHER PEOPLE: Although Alice sometimes has a rough exterior she's a warm and loving person. She gets on well with her sister Ellie and generally she gets on well with all the Mallrats. During Series 3 she found romance with Ned. He too has a harsh and sometimes obnoxious exterior but inside they were both looking for a companion. Alice loved those days and found it comforting to have someone to share her deepest feelings with.
STYLE OF PRINCIPLES: Alice believes in the good of people. She's strong and willing to say what she believes and doesn't care if no one thinks the same as she does.
She's determined to carry on in the world even though the adults have gone. The farm is her safe haven and she is determined to get it back up and running for herself and for her sister.
Alice knows that anything can be done if you want it enough.
STYLE OF SPEECH: Alice is quick witted and is happy at poking gentle fun at people. Never short of a remark and a laugh she likes to put people in their place. She speaks well and has an air of confidence in everything she says.
STYLE OF FUN: Alice likes a good laugh and doesn't take things too seriously. She likes getting out to the farm and getting her hands dirty and it makes her happy to do so.
With love in her life you couldn't get her down. Always bright and bubbly she just wants to be happy.