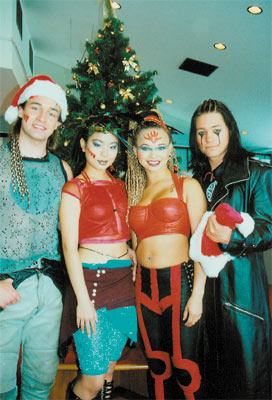 It's that festive time of year to enjoy the present, look to the future – and remember Christmas memories from the past.
We've gathered a Christmas list of some holiday season cheer (with over an hour of video content) including:
– 15 Christmas audio interviews with members of The Tribe cast!
– 3 huge group Christmas interviews with members of the cast from series 3, 4 and 5
– Special videos with The Tribe cast (including a special retelling of The Night Before Christmas story)
– 5 Christmas carols sung by our Tribe choir (Michelle Ang, Meryl Cassie, Jennyfer Jewell and Victoria Spence)
– 10 articles about what Christmas would be like in The Tribe – and what's on Tribemaster's Christmas list.
Huge group Christmas Interviews with members of The Tribe cast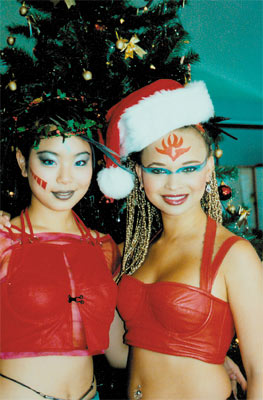 Series 5 Tribe Cast on Christmas Time: the new members who join The Tribe in Season 5 (Matt, Fleur, Calen and Vicky) talk festive in this special interview.
Series 4 Tribe Cast on Christmas: it's a time for a mince pies – and for Meryl Cassie, Victoria Spence, Caleb Ross, Monique Cassie, Nick Miller, Tom Hern, James Napier, Michael Wesley-Smith and Jacinta Wawatai to tell us all about Christmas time!
The Tribe Cast on Christmas and what it means to them: during the making of Season 3, the main cast were interviewed all about the holiday season – and here's their answers in this long in-depth interview with Dwayne Cameron, Beth Allen, Antonia Prebble, Caleb Ross – and almost everyone in Series 3!
audio clips: christmas interviews with the tribe cast!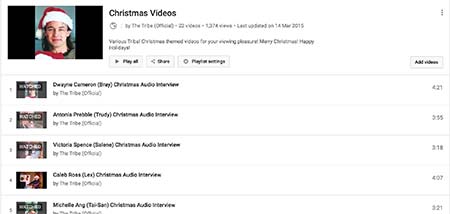 We've gone Christmas crazy and have a list of 15 Christmas themed audio interviews that are in a playlist on our official Tribe YouTube Channel.  There's nearly an hour to listen to including interviews – so sit back and relax listening to our Tribe Christmas playlist of cast interviews which features interviews with:
Dwayne Cameron | Beth Allen | Antonia Prebble |Caleb Ross | Victoria Spence | Michelle Ang | Nick Miller | Ari Boyland | Michael Wesley-Smith |Meryl Cassie |Laura Wilson | Jennyfer Jewell | Jaime Kaire-Gataulu |Amelia Reynolds – and The Guardian himself, Damon Andrews!
Holiday Season Videos with The Tribe cast
The (Tribal) Night Before Christmas – a special telling of the classic story, featuring Antonia Prebble (TRUDY), Michael Wesley-Smith (JACK), James Napier Robertson (JAY), and Fleur Saville (RUBY).
The 12 Days of Tribal Christmas – during the making of The Tribe Series 4, most of the main cast took part during a break from filming to make a fun song giving a unique Tribal 'twist'… Features  Caleb Ross, Megan Alatini, Tom Hern, Lucas Hayward, Morgan Palmer Hubbard, Victoria Spence, Nick Miller, Beth Allen, Raymond Thompson…and a special monster guest.
AUDIO CLIPS: The tribe cast sing christmas carols!
Get into the Christmas spirit on our official YouTube Channel with 5 Christmas carols performed by our super Tribe choir which includes Victoria Spence (Salene), Michelle Ang (Tai San), Jennyfer Jewell (Ellie) and Meryl Cassie (Ebony)! It's the ultimate Tribe girl supergroup and not only are they great actresses, the girls prove they are great singers and will bring some Christmas Tribal cheer!
The First Noel by The Tribe cast | Oh Christmas Tree by The Tribe cast | Good King Wenceslas by Tribe cast members | Deck The Halls by Tribe cast | God rest ye Merry Gentlemen by Tribe cast members |
Articles about how Christmas would be like in the world of The Tribe: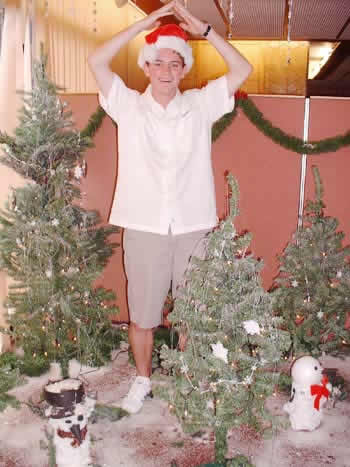 Christmas and The Tribe: – in a world with no proper shops, Christmas commercials, department stores – not to mention organised religion and churches (notwithstanding The Chosen) – then would there even be a Christmas? Wouldn't everyone be too busy trying to survive in a dangerous world?  Or would the spirit of Christmas be more important than ever, a time to be with loved ones?  This article explores the issues of what Christmas in The Tribe would be like.
Christmas and New Year in Tribeworld: Another analysis of New Year and Christmas, taking a look at the likely scenario of how this time of year would be celebrated in Tribeworld.
A very Techno Christmas: With the return of technology to the city – and electricity more than anything – would this allow the return of Christmas?  With twinkling lights, music – and presents that could be used again (those of the electrical variety)?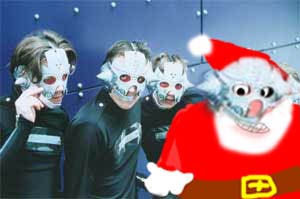 Tribemaster's Tribal take on The Night Before Christmas – we still don't officially know who or what Tribemaster is, but here is a Christmas themed poem allegedly penned by the enigmatic Tribemaster – featuring none other than the return of a certain Zoot at yuletide!
The Tribestyle of Christmas time – would Christmas happen in The Tribe?  It never did on screen – but that doesn't mean it wouldn't happen in the lore.  How would some of The Tribe characters respond to Christmas in a world without adults?
Tribemaster's Christmas List – a list compiled the mysterious unknown one about what each main character in The Tribe would like for Christmas…
Tribestyle Christmas 2 – a further look at how some of the main characters in The Tribe would be likely to celebrate Christmas – if at all.
A Tribal Christmas story: a PreTribe story set at Christmas time…
Christmas Trivia:
There are two articles with some real world facts and some suppositions on Christmas in The Tribe – check out Tribe Trivia Christmas 1 and Tribe Trivia Christmas 2!
There is also a Christmas historical fact and fiction article looking at the adult days of Christmas's past.